Enjoy your Hop On Hop Off Barcelona experience and book your bus tour tickets online at the best price. You will visit the best of Barcelona while travelling in an open-top double-decker bus. Sightseeing the city and visit the tourist attractions of Barcelona at your own pace.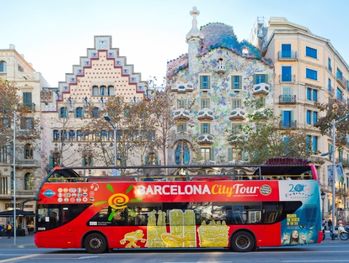 Hop On – Hop Off Bus Tour – Barcelona City Tour
From 30€
Explore Barcelona on a Hop-On Hop-Off bus tour at your own pace with the sightseeing tours of Barcelona City Tour. Enjoy the freedom to plan your own route and visit the iconic landmarks. Learn the secrets of the tourist attractions with the pre-recorded commentary.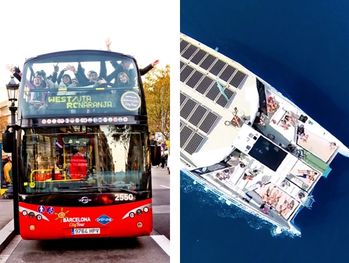 Mix&Save: Hop On – Hop Off Barcelona + Eco Catamaran Tour
From 42€
Explore Barcelona by land and by sea. Tour the city aboard the Hop On Hop Off bus for 1 or 2 days, and enjoy an hour of sailing along the coast of Barcelona on an ecological catamaran.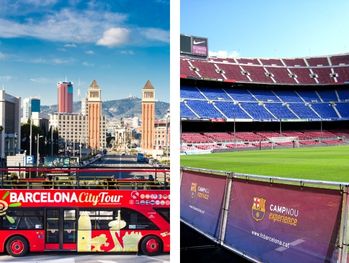 Mix&Save: Hop On – Hop Off Barcelona + Camp Nou Tour F.C. Barcelona
From 63€
The Barcelona City Tour double-decker tour bus will take you to the most iconic places in Barcelona. Hop on and off as many times as you want and enjoy the tour of Camp Nou with entrance to the F.C. Barcelona Museum.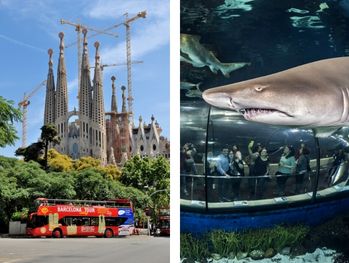 Mix&Save: Hop On – Hop Off Barcelona + Aquarium Ticket
From 51€
Enjoy the tour of Barcelona's highlights aboard the red Barcelona tourist bus with Hop On Hop Off service and visit the different aquariums of L'Aquàrium, the best way to go sightseeing with your family!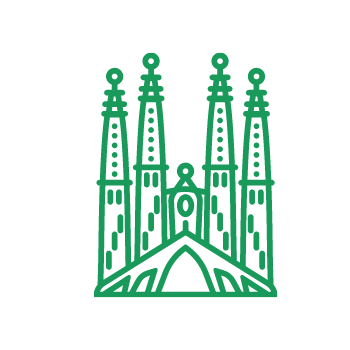 Barcelona hop on hop off bus route
The Barcelona sightseeing bus tour offers you two routes with more than 30 stops, perfect to visit the main points of interest of Barcelona from a different perspective. Thanks to the Hop On Hop Off service you can hop on as many times as you want as long as your ticket is valid, allowing you to customize your itinerary, remember that you can get on the bus from any stop!
East Route Stops
Gothic Quarter
Barceloneta Beach
Sagrada Familia
Gaudi's Park Güell
Tibidabo Amusement Park
Passeig de Gràcia
More landmarks!
West Route Stops
Arc de Triomf
Columbus Statue
World Trade Center
Olympic Stadium
Plaza España
Camp Nou Stadium
More landmarks!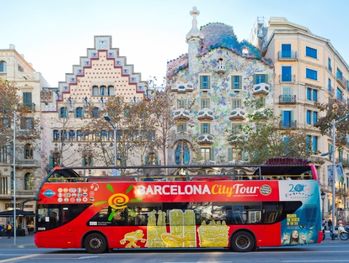 Barcelona hop on hop off bus reviews – Best of the best by TripAdvisor
Barcelona City Tour was awarded as the best hop on hop off bus experience in the world in 2020 by TripAdvisor users, within the Traveller's Choice.
The best bus tour in Barcelona has more than a thousand 5-star reviews:

geoffreyl82
Excellent service
Friendly staff, freely gave advice and information. We did both green and red routes, two day pass. The city is very spread out so able to see whole, and visit the points of main interest to us. The bus was on time and the audio was most helpful and very clear. We would recommend the bus tour.

Jayaseeli Christiansen
Fantastic Tour during a Short Visit, so it was worth it!
We were in Barcelona for a day (took the highspeed train to/from Madrid to Barcelona for a day tour). Therefore, we took the Red Line and Green Line Bus Tours, 2 hrs. each and it was fantastic as we got to use all our day time seen things quickly sitting in the bus. It was also bit cold and rainy day (little shower), so that make more comfortable sitting in the bus and having Audio Guide. So, all in all it was worth it!

Sw33t25
Great way to see Barcelona
We were only in Barcelona for 2 days and were actually rather unprepared. we booked the city tour the night before and made our way to placa de catalunya. we wanted to start with the green route however didnt check which bus we were getting on and ended up on the red route 1st! we didnt get off at any of the stops but enjoyed the views and the commentary (which is available in nearly 15 languages). each route altogether lasts nearly 2 hours. we changed routes back where we started and took the green route which goes to Sagrada Familia and Park Guell. i would probably get a 2 day pass next time and spend more time getting off the bus and exploring. it is a nice way to see all the main tourist attractions.

Hernandez1697
In Barcelona, this is the best way to visit
1st time in this kind of tour. But is the best decision in Barcelona. All the attractions are far from each other and this is the best way to get there; or you can pay an expensive taxi. We saw all Barcelona. Next time we will enter to some places, but we were satisfied.

Annexe1970
Great and safe way to see a city
I do this is most big cities I visit. Get a real feel of a city on an open top bus. The smells and the sounds. Hop on and hop off where you want. There are so many of these buses that you aren't kept waiting very long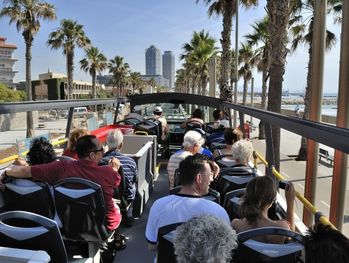 These reviews have been published in the official public profile of Barcelona City Tour atTripAdivisor.
Enjoy the best tours of Barcelona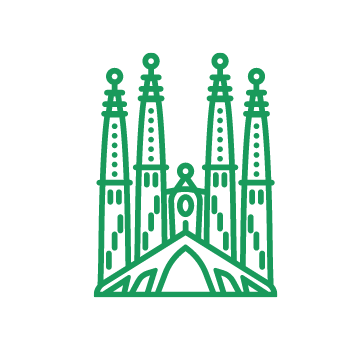 Selected experiences offered to show you the essence of Barcelona. Feel like a real local visiting the must-see places in the city. Enjoy all the advantages of our activities, tours and excursions.