How to make your online booking: step-by-step Guide
1. CHoose your multiday tour
You will find all our organized trips in our "Multi-day Tours" section.
Where do you want to start your journey from? Use our filters to choose the destination from where you want to depart. Remember to always filter by departure point.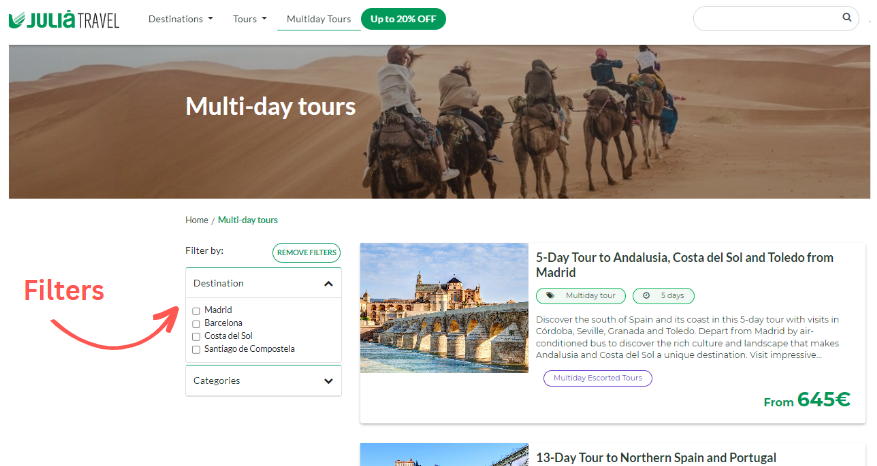 For example:
If you would like to start your tour in Costa del Sol, you should go to the "Destination" filter and select "Costa del Sol". Only the tours starting from Costa del Sol will appear in the side panel.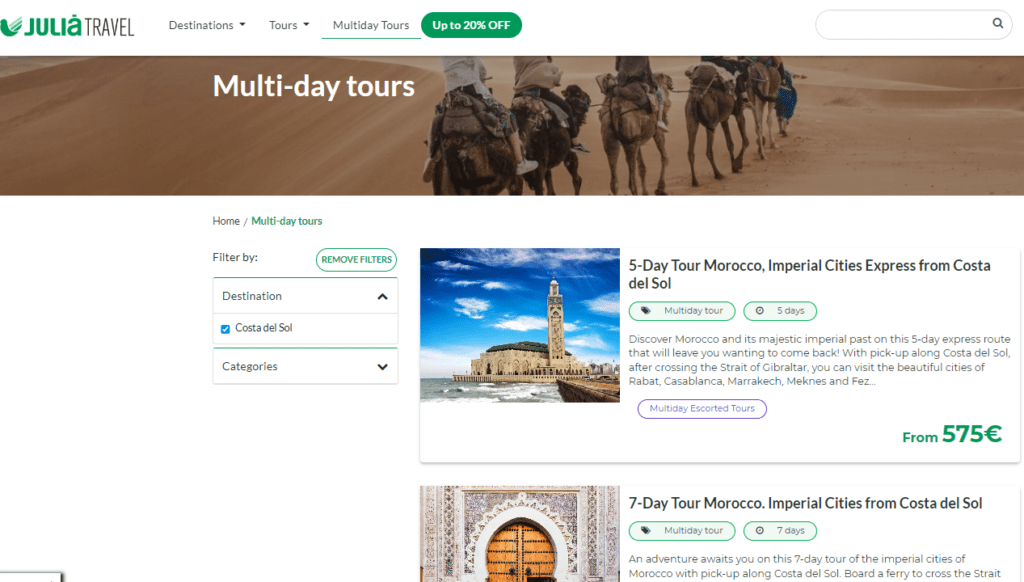 2. choose a date
Once you have chosen the tour, select the date that best suits you on the calendar.
After clicking on the start date, you will notice that the days of the tour will be marked, as well as the end day.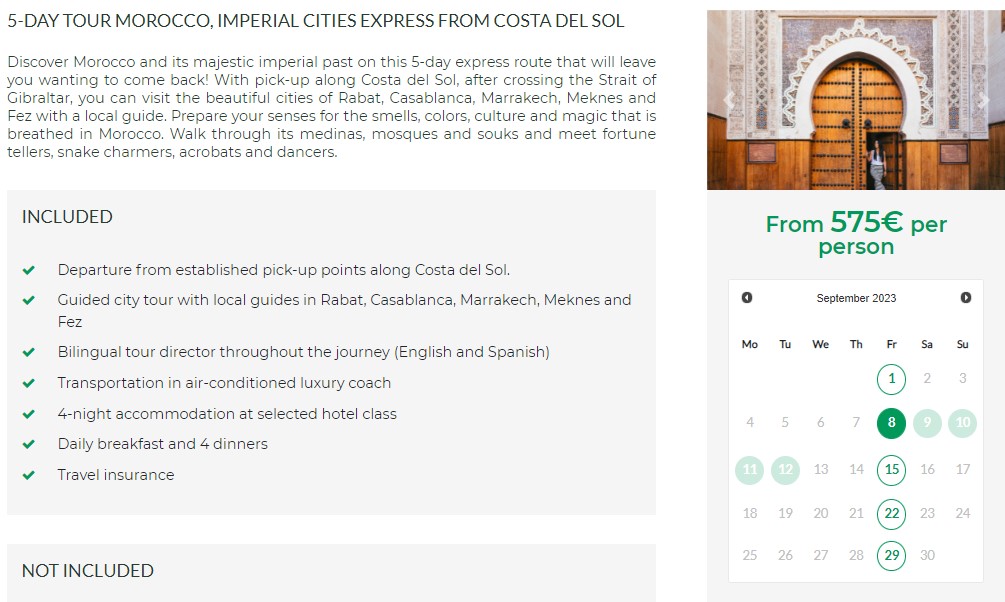 Once you have chosen the day of departure, click on "Book".
3. Book the hotel
It's time to book your hotel rooms! How many people will there be? Will there be any children or babies? How would it be best to divide the rooms?
It is important for you to know that:
There must be two adults per room.
Infants and children are not allowed to stay alone.
It is possible to book two adults and one child per room.
For example:
During your trip, you would like to stay in two rooms. In one room, there will be a couple and in the other, an adult and a child. To book your rooms, you should:
a) Select the number of rooms
b) Select the type of passenger for each room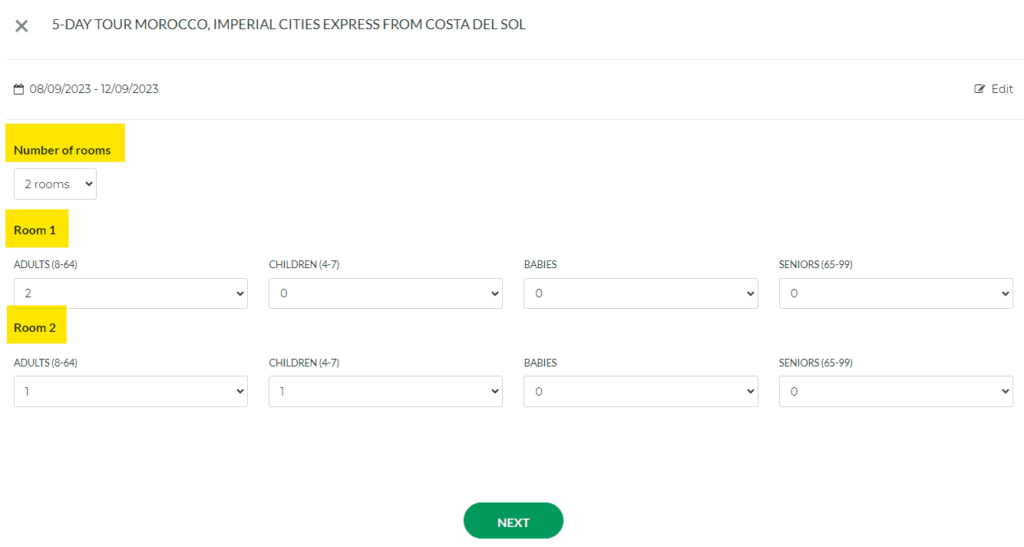 Once you have finished completing the room information, click on "Next".
4. TELL US YOUR PREFERENCES
Please detail your preference during your multiday tour so we could adapt it to your needs:
Language: choose if you want the program in English or Spanish.
Pick up point: choose one of our pick up points located in the main hotels and places of interest in the city. The time will be provided according to the selected pick-up point. Remember that you must select a pick-up for each room booked.
Room category: all our tours include accommodation in 4* category hotels. However, you must select the category of the rooms. You can choose between "Category T" (Tourist) and "Category A" (Premium).
For example:
You need your tour to be in English. Also, you have 2 rooms booked and you would like them to be Class T. In addition, you need to be picked up at the Alanda Hotel Marbella, where you are staying. In order to provide us of all of this information, you should:
a) Choose the room type and select the language of your preference (for each room)
b) Choose the pick up point (for each room)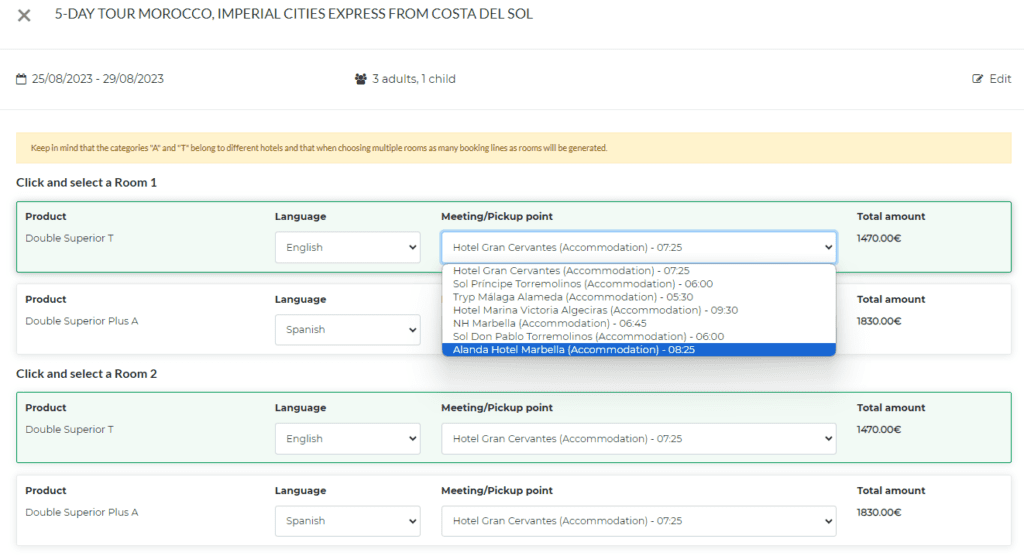 Once you have selected the language, room type and pick-up point, you will be able to see the total price. Click on "Add to cart".
5. check your reservation details
Your shopping cart will contain as many products as rooms you have booked.
For example: if you have booked 2 rooms, 2 products will appear in the cart.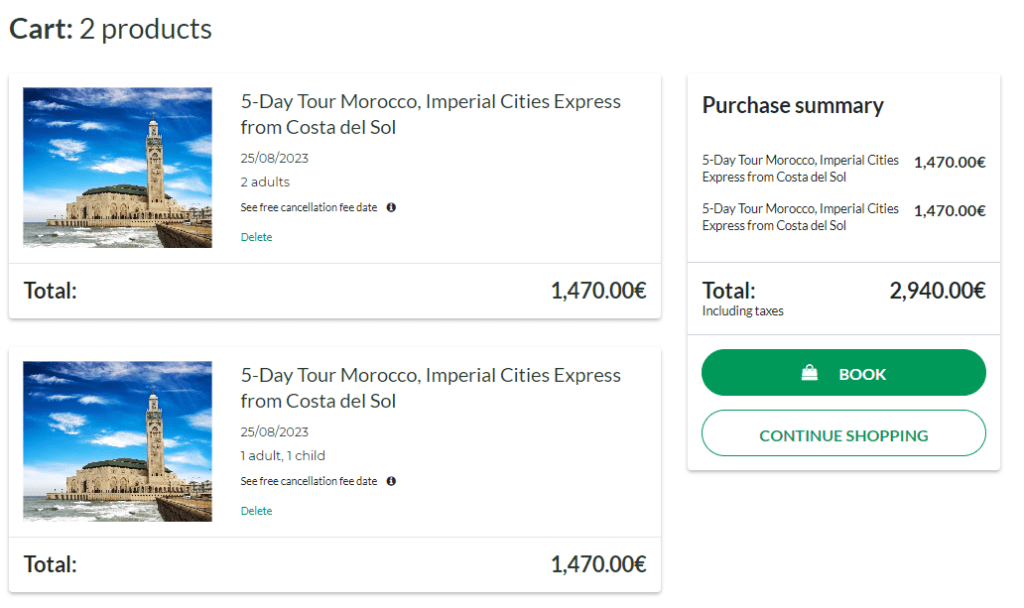 Cancellation flexibility
Cancellation is free of charge until indicated dates on the website. If the client cancels outside the free period, a part of the total price of the reservation will be charged. It will be charged in the following way:
Free cancellation up to 22 days before the travel date.
If you cancel between 21 and 10 days before the travel date, you get back 85% of the reservation.
If you cancel between 5 days and 9 days before the date of travel, you get back 75% of the reservation.
If you cancel less than 5 days before the trip date, you will be charged the full amount of the trip.
If there are train tickets issued or any other services with special conditions, the charges will be billed regardless of these conditions.
You can click on the "Information" icon to see in detail how cancellation fees and dates are applied: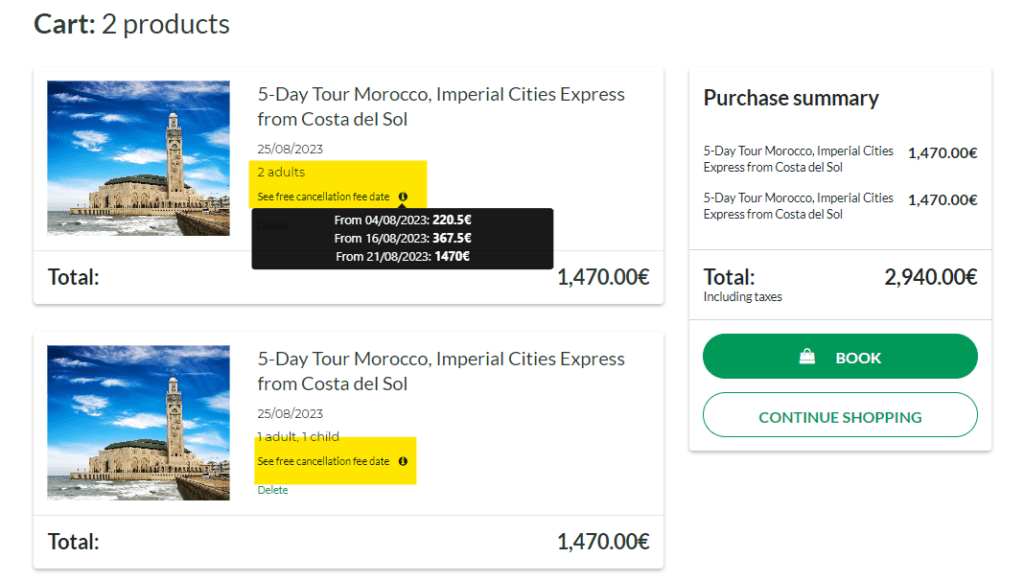 Check all the information on the page before proceeding with your reservation. If all the information is correct, click on "Book". For the next and last part, remember to have the documentation of all passengers on the trip ready.
6. check your details and complete your reservation
Data: fill in the holder's details and the information of each of the passengers for each room.
Payment method: this is a secure payment with no hidden costs. It can be perfectly done from your mobile phone. You can pay with VISA, Master Card, American Express or Paypal.
You will need to fullfil:
a) Holder's information. The "holder" is the person who makes the payment.
B) Information of all the passengers for each room (adults and children)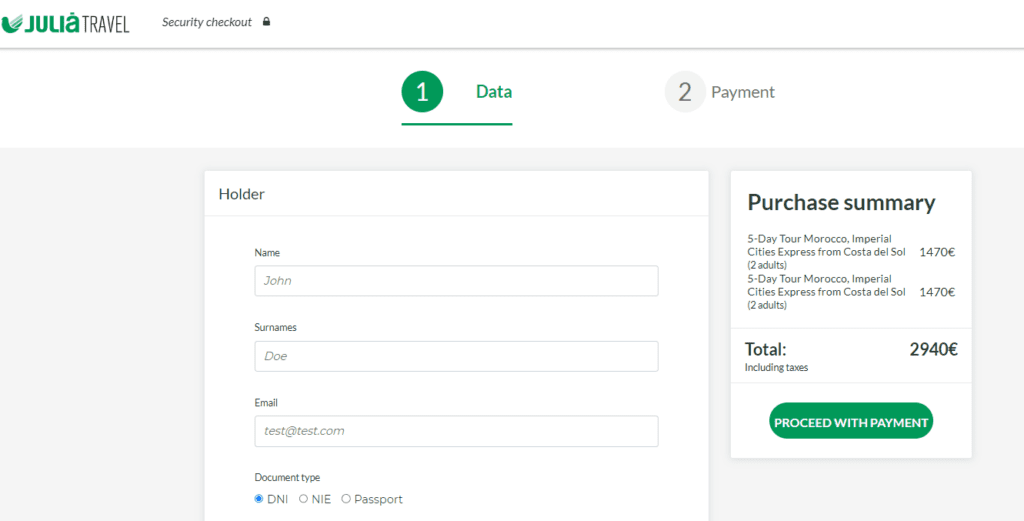 Why do I have to provide my personal details such as date of birth and passport?
Your tour includes visits to different monuments that require personal information from the traveler in order to issue the tickets. If this information is not provided, you may not be able to get an entrance ticket to some of the attractions.
We also need your personal information to make the hotel reservations included in your trip.
Remember you can choose your payment method and add your card details securely.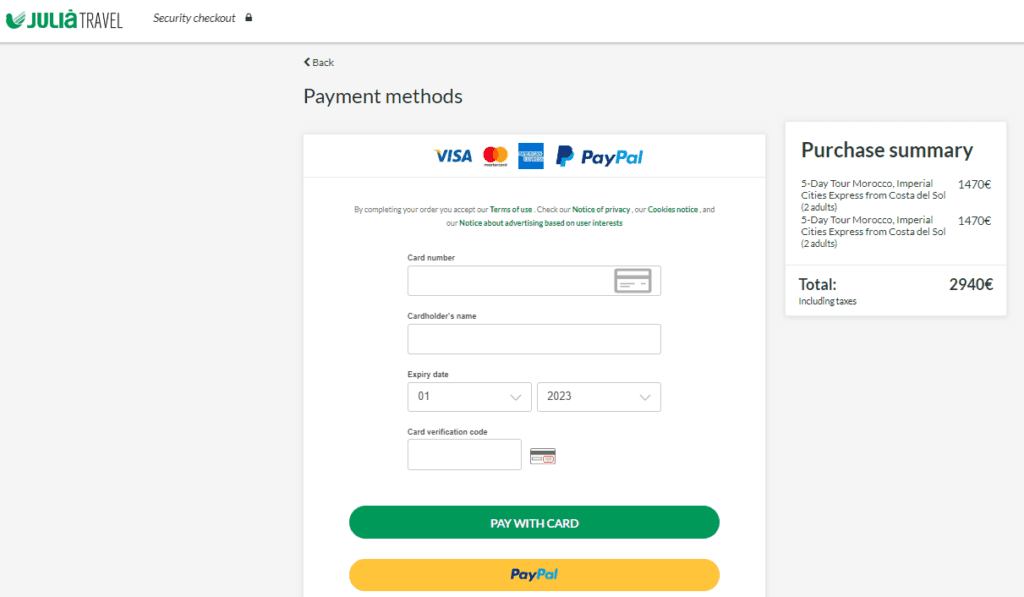 Once the payment has been confirm, your reservation will be done.
7. GET YOUR TICKETS BY Email
Now you can get ready to enjoy your multiday trip!
You will get the confirmation of your booking confirmation via email, as well as all the details of your reservation. Remember that if you have any doubts or questions, before or during your trip, you can always contact us through our online channels or visit us at one of our offices. We will be happy to help you to make of your trip an extraordinary experience.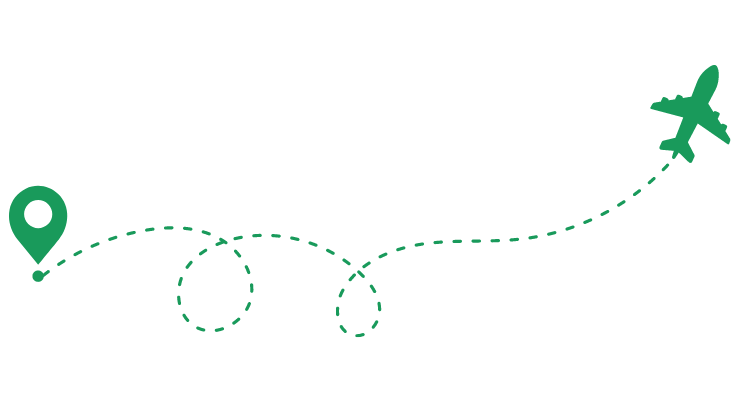 Do you have any question?
Contact us and we will help you!
Ready for your trip?
Book now!