More than 140 years in the making, a true masterpiece of
modernism, and it's earned itself the UNESCO World Heritage Site
status…
Explore the awe-inspiring Sagrada Familia on our guided tours with exclusive skip the line tickets. Prepare to be blown away by Gaudi's masterpiece as our expert local guide uncovers its fascinating history for you.
Save both time and money with our top-notch combo deals that let you experience not only the incredible Sagrada Familia plus the most remarkable landmarks in Barcelona.
SAGRADA FAMILIA TOURS
THINGS TO KNOW BEFORE YOUR VISIT TO SAGRADA FAMILIA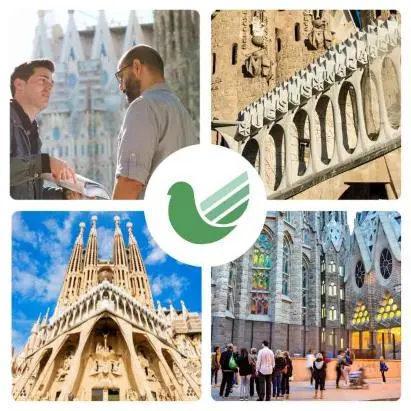 The Sagrada Familia, an architectural gem in Barcelona, kicked off its construction journey in 1882, thanks to the visionary Antoni Gaudí. This place is a fascinating blend of Gothic and Modernist vibes, creating a one-of-a-kind masterpiece.
Gaudí poured more than 40 years of his life into the Sagrada Familia, infusing it with his deep devotion and artistic flair. The church boasts three façades that tell the stories of Jesus's birth, passion, and glory, while the interior will leave you in awe with its forest-like columns.
On November 7, 2010, Pope Benedict XVI gave it the title of "Minor Basilica", and although it's still a work in progress after 140 years, the Sagrada Familia continues to stand as a shining example of Gaudí's genius. It's a place that never fails to inspire and captivate visitors, solidifying its status as Barcelona's iconic monument.
opening hours
The typical opening hours for Sagrada Familia, during which tours take place, are:
November to February: Monday to Saturday from 9:00 am to 6:00 pm. Sundays from 10:30 am to 6:00 pm.
March and October: Monday to Saturday from 9:00 am to 7:00 pm. Sundays from 10:30 am to 7:00 pm.
April to September: Monday to Saturday from 9:00 am to 8:00 pm. Sundays from 10:30 am to 8:00 pm.
December 25 and 26 / January 1 and 6: from 9:00 am to 2:00 pm.
In special cases, the schedule might be subject to changes due to unique events or unforeseen circumstances.
HOW TO GET THERE
If you're wondering how to reach Sagrada Familia from various parts of Barcelona, no need to stress. It's actually quite straightforward. There are several ways to make your way to this iconic monument:
Metro: You're in luck! Just hop on lines L2 and L5, and they'll take you directly to the doorstep of Sagrada Familia.
Bus: Another great option is to catch one of these bus lines: 19, 33, 34, D50, H10, or B24.
Barcelona City Tour Tourist Bus: If you're exploring the city with the Barcelona City Tour Tourist Bus, you'll want to hop off at Stop 11 on the East/Green Route to reach Sagrada Familia.
Dirección:
Frequently Asked Questions
How long is Sagrada Familia tour?
The amount of time you wish to dedicate to Sagrada Familia is entirely up to you! Typically, our tours run for about 90 minutes. Nevertheless, following the guided tour, you are free to stay at the temple, capturing more photos or simply reveling in its exquisite allure.
How far in advance should you buy Sagrada Familia tickets?
We highly recommend that one of your first steps after finalizing your travel dates, is to secure your Sagrada Familia tickets as they sell out quickly. If you plan on going independently, get your tickets several weeks ahead of your visit. On the other hand, if you are interested in joining a guided tour, you will often find tickets available for same-day bookings.
Keep in mind that the Sagrada Familia experiences its busiest period during the summer months in Barcelona (June to September).
Sagrada Familia tickets are sold out, where can you get more?
Getting tickets for the Sagrada Familia can be a bit tricky because they sell out fast on the official website. But here is the good news – you can opt for a guided tour that includes tickets. This is a smart and safe option to secure your tickets, even if it is on short notice. At Julià Travel, we offer Sagrada Familia Tours, usually, with last-minute availability, so you are unlikely to run out of tickets if you book with us.
Are Sagrada Familia towers worth it?
Visiting the Sagrada Familia towers offers unique panoramic views of Barcelona, and while there is an additional fee and some physical effort involved in climbing narrow staircases, the experience is absolutely rewarding. It provides a distinctive perspective of Antoni Gaudi´s masterpiece and a chance to see the city from above.
However, if mobility or heights are concerns, admiring the beauty of the basilica from the ground offers a more accessible yet still fulfilling experience.
How strict is Sagrada Familia dress code?
Sagrada Familia is a Catholic temple, so it is important to adhere to a respectful dress code. To enter, visitors are required to avoid wearing shorts, skirts or pants above the knees, hats, sandals, open flip-flops, bathing suits, sleeveless shirts, low-cut necklines, backless tops, see-through garments, strapless attire, or clothing with offensive or promotional designs. These guidelines apply to both adults and children.
What is the best time of the day to visit Sagrada Familia?
Since the Sagrada Familia is such a popular spot in Barcelona, it is almost always bustling with visitors. However, you might want to consider visiting during the quieter hours of 13:00 to 16:00, typically during lunchtime, when the crowds tend to thin out a bit.
Nevertheless, when you opt for a guided tour, you will have a knowledgeable guide who can help you find the best times to really soak in and understand this amazing architectural gem.
How do you avoid / skip lines at the Sagrada Familia?
Due to the consistently high number of visitors at the Sagrada Familia, waiting in line is pretty much the norm. But there is a handy "fast track" ticket (formerly called skip the line) that can make your entry much quicker. With this ticket, you won´t have to stand in the regular entrance line like everyone else
Looking for travel inspiration?
Sign up for our newsletter and get our latest itinearies, travel trips, discounts and more right to your inbox!!

Start planning your next trip with a 20% off
Sign up now and get a promo code for up to 20% off on selected experiences.
Subscribe