Visiting the Caminito del Rey is an exciting experience. However, we know that planning the itinerary could be a bit complicated. In Julià Travel, we would like to help you by sharing with you 5 important tips that you should take into account when planning your visit from Malaga to Caminito del Rey.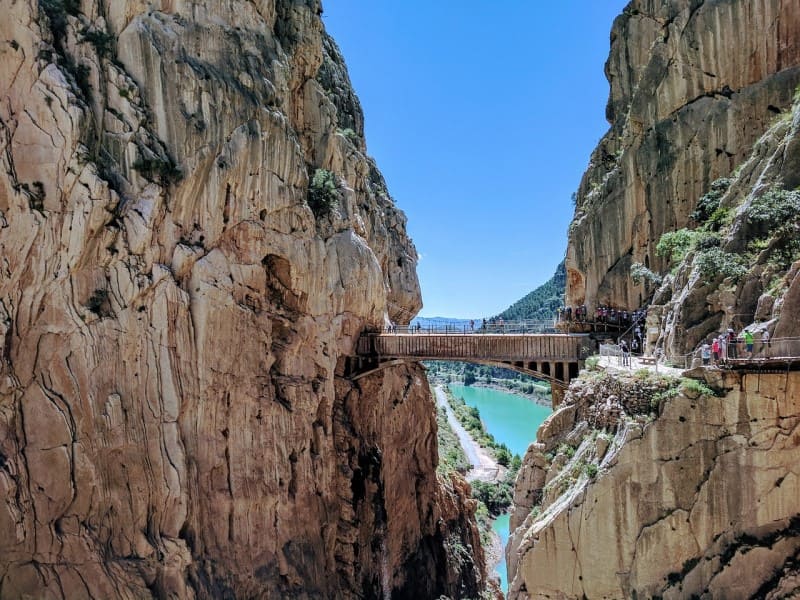 If you're a nature and adrenaline lover, you can't miss a trip to the Caminito del Rey on your travel itinerary.
Located in Malaga, this incredible route of more than 7 kilometres will immerse you in walkways that wind between marshes and cliffs, giving you breathtaking views of the majestic mountains of Malaga.
In this post you will find: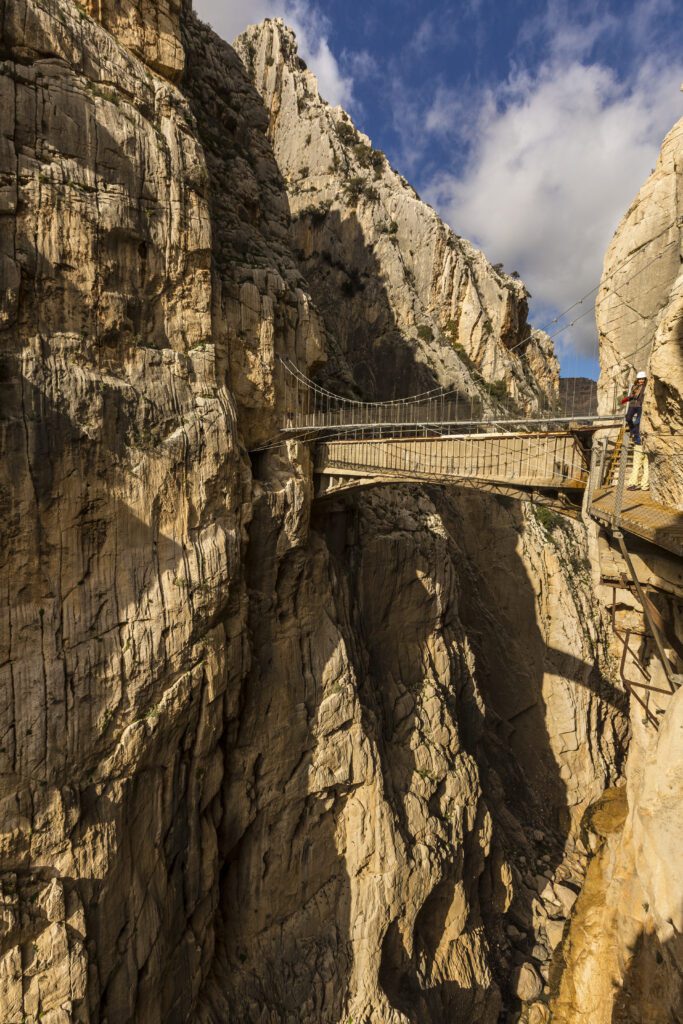 But first, a bit of history…
Caminito del Rey is a footbridge that was built between 1901 and 1905 on the walls of the Desfiladero de los Gaitanes, a canyon carved out by the Guadalhorce River, located between the municipalities of Ardales, Álora and Antequera, in the province of Málaga.
The Sociedad Hidroeléctrica del Chorro (an hydroelectric energy company) needed access to the Gaitanejo and El Chorro waterfalls. To this end, a path was created along the Desfiladero de los Gaitanes, from the railway tracks. For its inauguration, the then King of Spain, Alfonso XIII, was invited. The engineer in charge of the work, after noticing the marvellous views from the site and considering the importance of the guest, decided to transform the wooden bridge that linked the power station and the reservoir into a concrete footbridge. This footbridge is what we currently know as the famous Caminito del Rey, named in honour of the monarch who was the first to walk along it.
1. HOW TO GET FROM MALAGA TO CAMINITO DEL REY?
Due to its location, getting to Caminito del Rey is not an easy task. In order to get there we have four options:
a) By bus (public transport) from Malaga to the village of Alora.
Going by bus from Malaga to Caminito del Rey takes between 2-3 hours.
The first thing you will have to do is to go to the bus station in Malaga and get on the bus heading to the village of Alora. Check the bus schedule in advance, as the buses usually run every 2 to 3 hours.
When you reach the bus station in Alora, you will have to do a transfer that will finally take you to Caminito del Rey.
b) By train from Malaga to El Chorro Station
You will have to go to María Zambrano station in Málaga. From there, take the line to El Chorro train station. This journey takes approximately 50 minutes.
El Chorro Station is located near to the end point of the Caminito del Rey's route, so you will have to take the shuttle bus to the starting point of the route.
c) By car from Malaga
The journey by car from Malaga takes 50 minutes. However, you should know that there is a parking fee at Caminito del Rey so do not forget to bring some cash on hand in case that cards may not be accepted.
d) By an organised excursion to the Caminito del Rey from Malaga
If you don't have a car or prefer not to spend several hours on public transport, you can always book an Caminito del Rey Tour from Malaga that includes round-trip transport.
Among many other benefits and unlike public transport, this option offers you:
Take you to Caminito del Rey in a comfortable air-conditioned bus. An excellent option if you go during the summer.
After a 7.7 km walk, driving or making transfers is not the best option. With an organised trip, you can use your time on the bus to get some sleep, read something or watch your favourite show on your smartphone.
You can also avoid delays or unforeseen events related to public transport on your visit.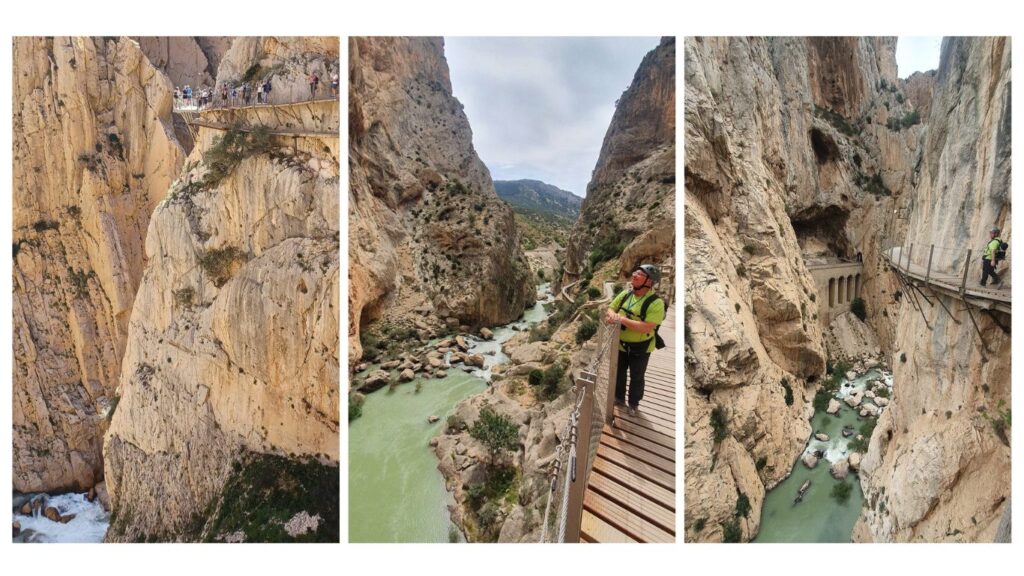 Pictures kindly provided by a traveller who took the Caminito del Rey Tour from Málaga
2. How Long Does It Take to Walk Caminito Del Rey?
The route of the Caminito del Rey has a total distance of 3.3 kilometres and it is estimated to take 2 to 3 hours, depending on each person's speed.
However, to this time, you must add:
A walk of approx. 2 km from the parking area to the entrance ticket office (North Access). This is where the official route of the Caminito del Rey begins.
A walk from the end of the path (South Access) to the point of reception where you will have to return the protection helmet you were provided at the beggining of the route. This walk is approximately 2 km long. Just 500 metres away, you will find the bus parking area.
Please be aware that the route is one-way and linear, which means that you end up at a different point -and far- from where you started. So, in order to return, you will have to take a shuttle bus from the parking area, located 2 km from the end point of the Caminito del Rey. These buses circulate between 07:50 and 20:00 h. The ticket price is €2.5 and card payment is not accepted so make sure you bring some cash.
To simplify it, we could divide the total route into 4 sections:
a) Section 1: from the "El Kiosko" Restaurant to the North Access (2 km approx.).
b) Section 2: official route of the Caminito del Rey (3.3 km). It starts from the North Access and ends at the South Access. This is a 2-3 hour walk.
c) Section 3: starts at the South Access (end of the Caminito del Rey) and ends at the helmet drop-off point and shuttle bus parking. This section has a length of 2 km.
d) Section 4: return by bus from the shuttle bus parking to the starting point of the route (near to "El Kiosko" Restaurant). This is a 15-20 minutes ride.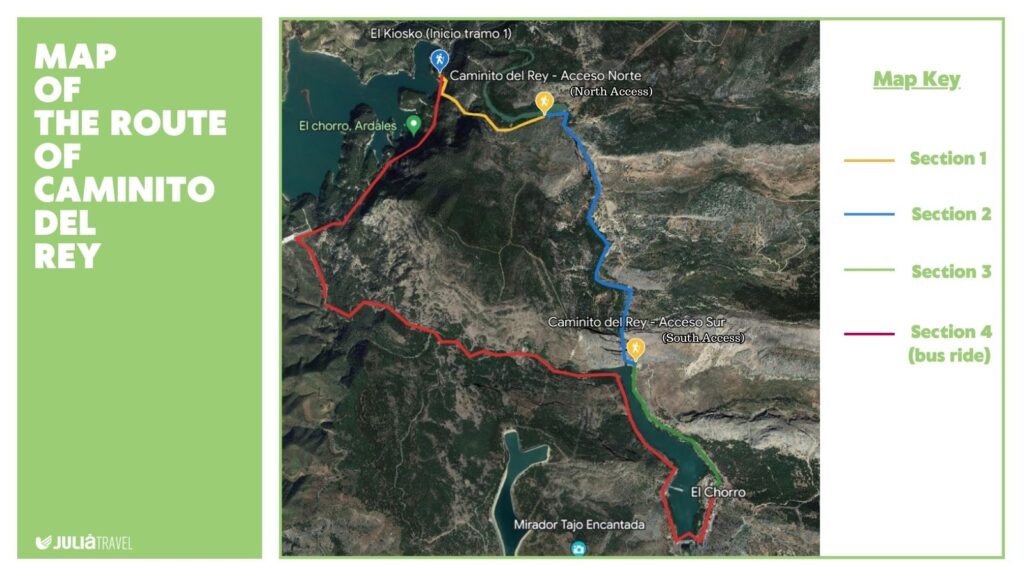 The level of difficulty of the route is medium-low, so walking it should not represent any problem. Please note, however, that children under the age of 8 are not allowed to enter Caminito del Rey. Children over 8 years old must present their ID at the ticket office.
3. WHAT IS THE BEST SEASON TO VISIT CAMINITO DEL REY?
The best time to visit Caminito del Rey is spring and autumn. We recommend planning your visit for these periods, as temperatures are usually mild and pleasant, avoiding the intense heat of summer and the colder conditions of winter. It is also low season, which means there are fewer tourists, allowing you to enjoy the route in a more relaxed way.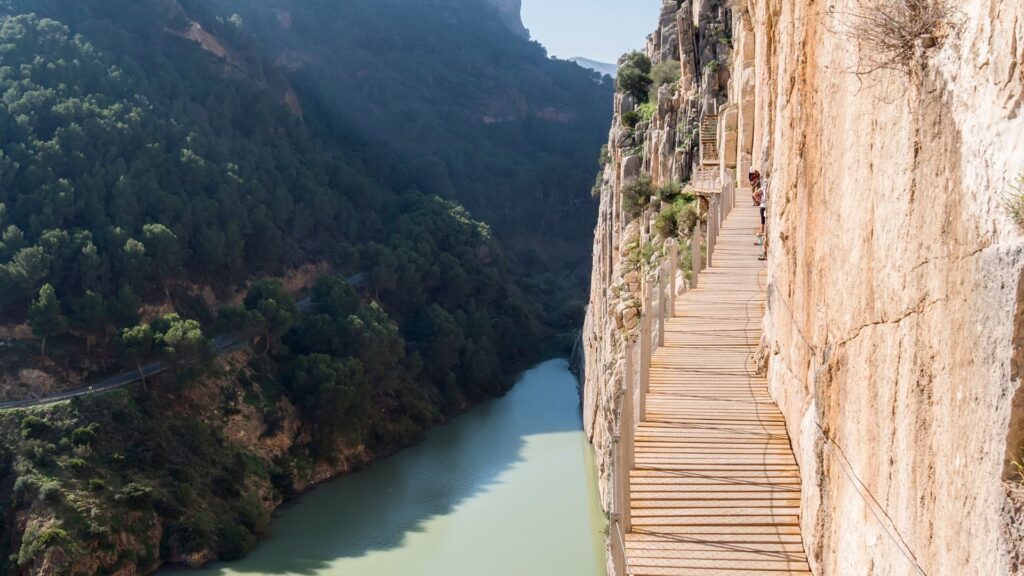 Do you only have time in summer?
One of the main advantages of travelling in summer and, especially, to destinations like Caminito del Rey is that the days are much longer and you can enjoy every hour to the fullest. Let's say you are not an early bird and you get to the Caminito del Rey at midday, you still have many hours to enjoy the journey at your own pace.
If you visit Caminito del Rey in the morning, you will probably be free between 16:00 and 18:00. In other words, you still have around 3-4 hours of sunshine to enjoy the beaches of Malaga, have a drink while watching the sunset or plan your next adventure on Costa del Sol.
4. WHAT SHOULD I WEAR TO WALK CAMINITO DEL REY?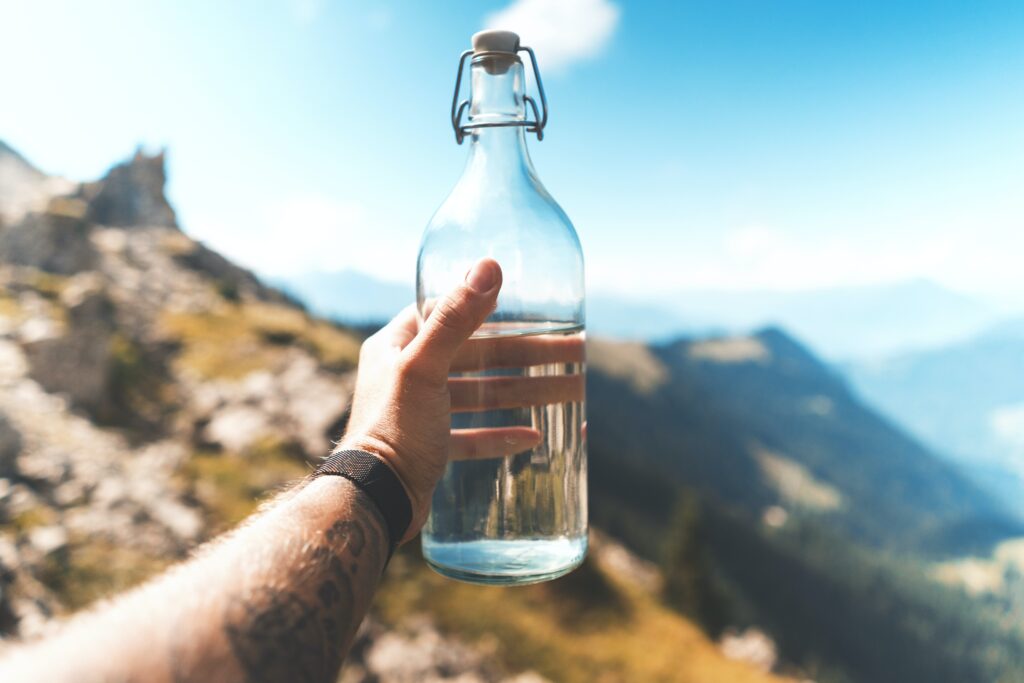 We would recommend you to wear comfortable clothes suitable for walking. Here are some suggestions:
Footwear: wear closed and comfortable shoes, such as trekking or hiking shoes. Sandals are not recommended.
Clothing: dressing in layers is always the best option. If you are going in winter or autumn, temperatures can fluctuate depending on the time of the day. We recommend wearing a breathable T-shirt, a light sweatshirt and a jacket (if you are going in summer, a T-shirt will be more than enough). Also consider wearing sturdy, stretchy trousers or shorts. Don't wear too many clothes as the extra weight can make it difficult to walk and make you feel tired earlier.
Sun protection: don't forget to bring sunscreen, a hat or cap and sunglasses, especially on summer and sunny days.
Additional accessories: if there is a chance of rain, take a oilskin or waterproof cape with you. You can also take a small, light backpack to carry water and snacks.
5. WHERE TO BUY TICKETS FOR CAMINITO DEL REY?
There are currently 3 options to get your tickets to the Caminito del Rey:
a) Buy online on the Caminito del Rey website:
You can buy your tickets on the official Caminito del Rey website. However, keep in mind that Caminito del Rey is one of the main tourist attractions in the area. Therefore, tickets tend to sell out early and you should buy them in advance.
The tickets include a protective helmet which will be given to you at the beginning of the route (at the North Access) and you must return it at the end of the route.
These tickets do not include the parking fee in case you go by private transport, or the shuttle bus ticket needed to return to the starting point, nor the transport from Malaga. You will have to manage these expenses on your own.
B) Purchase your ticket at the North Access ticket office:
This is the least recommended option as there is no way of knowing if there is availability for the day of your visit until you are there.
Bear in mind that it is possible that, when you arrive, you may find that there are no more tickets at the office so you will have to return to Malaga and try again the next day or wait until the next availability opening.
Doing the Caminito del Rey is a unique experience, so it is best to avoid setbacks.
With this option, you can book your tickets to Caminito del Rey up to 48 hours in advance, so it is impossible to miss your tickets.
This option, in addition to including your tickets, also includes:
Air-conditioned transport to Caminito del Rey from Malaga so you don't have to worry about buying bus tickets, timetables, transfers and detours. After such a long walk, the last thing you want to do is driving or waiting for public transport. At the end of your tour, the same bus that took you to Caminito del Rey will take you back to the city.
If you are not in Malaga, but in other locations within the Costa del Sol, don't worry. This service includes pick-ups from: Malaga, Torremolinos, Fuengirola and Marbella.
Accompaniment by a professional bilingual guide throughout the tour. If you have any doubts about the history and importance of Caminito del Rey or any other difficulty during the tour, you can always contact your guide who can assist you during the whole visit.
Entrance tickets and shuttle bus ticket so you can forget about extra expenses and enjoy the views to the maximum.
Guided visit to the village of Ardales to enjoy the most of your day discovering one of the most beautiful villages in Malaga. You can also take the opportunity to go to the toilet, have a coffee or pick some water and snacks before starting the tour in Caminito del Rey.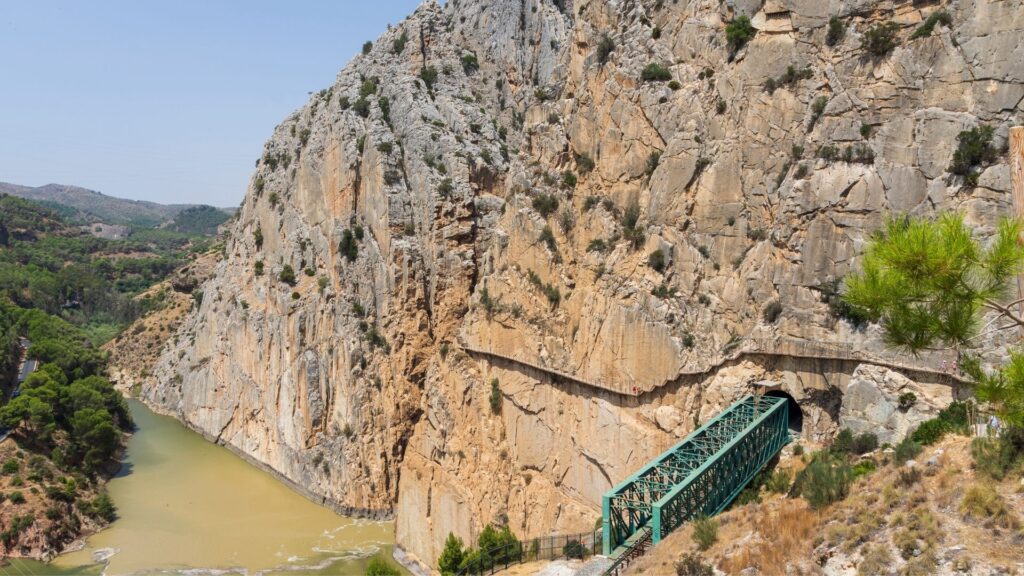 You're all set to start planning your visit to Caminito del Rey! With these 5 tips, we guarantee you'll thoroughly enjoy this incredible experience. Get ready for the adventure!
And while you're in Malaga, why not take advantage of the opportunity to make some trips nearby? Did you know that you can go on a day trip to Granada from Malaga? Or perhaps enjoy a traditional Moroccan lunch in Tangier? How about a trip to Gibraltar from Malaga?
Explore our Costa del Sol travel section and unlock extraordinary experiences. Unforgettable experiences await!